Developing Quick Play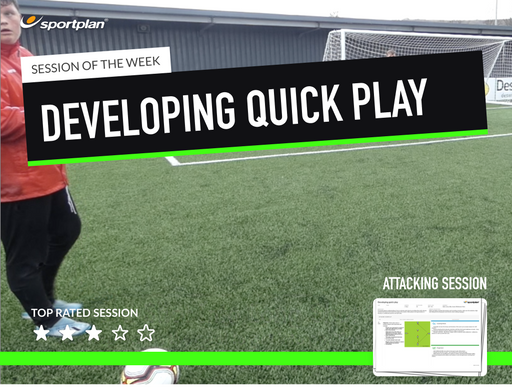 Modern football has developed a trend of which only quick, fast tempo football can succeed. Increase the speed at which your team play at with this session by creating combinations to exploit space. Once players begin to recognise the value, they will be zipping the ball about the field, changing channels and controlling the tempo.
What?s in the Session?
Working on quick combinations all over the pitch to gain advantage to exploit space.
Players will link with each other all over the pitch & play attractive, quick football.
Control, quick passing, players awareness, controlling tempo, changing direction of play.
The session is aimed at players between the ages of 8 ? 11.
Small sided game ? four goal game
To develop players understanding of how to develop quick play by providing them with relevant technical and tactical information throughout the session. Allow players the opportunities to develop in conditioned practices and open play.