Defending Deep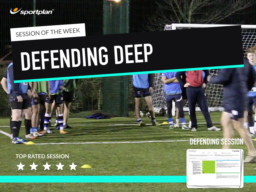 Sometimes, defending deep is the best option to weather a storm and protect a lead. This advance session sets up your players to be comfortable in this situation and teaches them how to stay disciplined to stay compact.
Advanced session working on specifically deep defending and job roles for individuals, units and the team as a whole.
Players will receive clear information and pictures of roles and responsibilities when defending deep and how to block penetrative balls.
Drop & recovering, narrow and compact, line of retreat, sliding and screen forwards, composure and concentration.
The session is aimed at players between the ages of 17 -21.
Phase of play ? defending deep.
To provide players with detailed technical and tactical information in relation to session topic and recreate realistic scenarios to aid their understanding and development