Counter Attacking from Midfield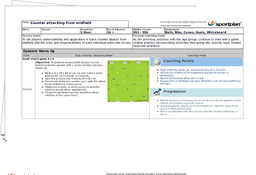 The counter attack is a dangerous attacking tactic. If done properly, it can be the most effective way of beating the defence before they have a chance to find any structure, leaving big space to exploit. Develop quick, powerful players and focus on control and timing in front of goal to finish the attack off effectively.
What's in the Session?
Session focused on quick, powerful, and successful counter attacks.
Players will develop an understanding on how and when to counter from the centre of the pitch.
Precise control and concise finishing, timing and nature of movement.
The session is aimed at players between the ages of U12 – U16
Conditioned Game
To aid players understanding and application of quick counter attacks from midfield and the roles and responsibilities of each individual when this occurs.
This session is available as part of an Interactive Coaching Pack, scroll down to learn more