Beating opponents in 1 v 1's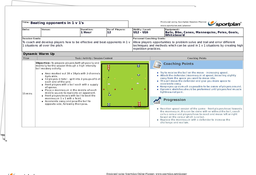 Beating opponents in 1 v 1 situations takes understanding of space, weight transfer and positioning of the ball. Teach your players to recognise how to create space in a tight area by manipulating the ball with quick feet and little touches which shifts the defender slightly to then beat them.
What's in the Session?
Session focused on giving players the tools and understanding of how to beat players in 1 v 1 situations.
Players will understand the importance of quick feet and decision making to be effective and exploit the opposition.
Speed with the ball, fast touches, head up, feint moves, confidence, ball manipulation.
The session is aimed at players between the ages of U12 – U16.
Small sided game 4 v 4 + 4
To coach and develop players on how to be effective and beat opponents in 1 v 1 situations, all over the pitch.
This session is available as part of an Interactive Coaching Pack, scroll down to learn more