Attacking Play within SSG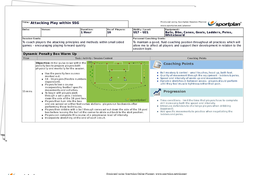 As the emphasis on possession-based play and playing out from the back grows, players need to be comfortable taking the ball under pressure and playing in small tight areas. These small sided games are perfect for developing your players communication and reading of situations to work out how to get out of tight areas.
What's in the Session?
Session focused on attacking play using small sided games as the tool.
Players will recognise opportunities to play forward early and quickly by penetrating the opponents to create goal scoring opportunities.
Passing & combinations, decision making, A&D of support, quick play.
The session is aimed at players between the ages of U17 – U21.
Small sided game 2
To coach players the attacking principles and methods within small sided games - encouraging playing forward quickly.
This session is available as part of an Interactive Coaching Pack, scroll down to learn more