Aerial Passing - Switch it like Beckham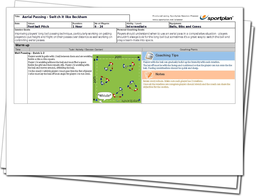 Being able to play a lofted pass in football is only half the job - you need to be able to control it too!
This plan looks at when players should use an aerial pass in a match and gives them plenty of time to practice this skill, both with and without pressure from a defender.
What's in the Session?
To get your players switching like Beckham, we open this session with a 1-2 Passing warm-up, promoting heads up, fast-feet football before moving onto passing over distance and avoiding an interception, before finishing with a fun three-team conditioned game.
This session is available as part of an Interactive Coaching Pack, scroll down to learn more