5 fun games for young footballers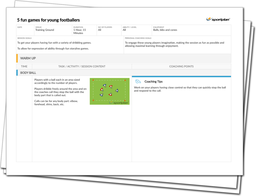 Use this plan to improve your young players' on-the-ball skills and have fun with a variety of dribbling games.
To engage players we use imaginative storyline games, keeping things as fun as possible while also maximising learning by keeping players focused throughout your training.
What's in the session?
Five fun drills to get players working both individually and as a team. Games in this session include body ball, sleeping giant and It's my zone - and develop players' close control, ability to look up when dribbling and using a change of pace when on the ball.
This session finishes with a small-sided game of 5v5 to allow players to put their newly improved skills to the test in a match situation.