Search
results for

: netball

We found 20 results matching your criteria:
Drills

category: Agility
Soccer Hopscotch Agility Start with both feet inside one of the rungs and jump both feet outside the ladder (so the ladder is between both feet) th...
Sessions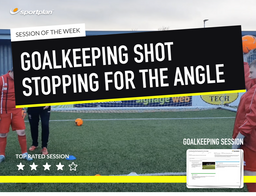 To improve the goalkeeper making saves from shots from the angle.
Community Drills
Netball- with football Put into two teamsone ballif 6 passes is made = 1 point if ball is dropped ball is turned over
Drink break whilst you set up next pitch.Throw in netball. Stationary throws to a player in space, ball must be caught or it changes team. Team must h...