Pre Season: Preparing your Bowlers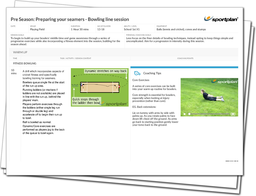 To get your bowlers back in the groove this week, we start with a stretching and bowling warm up before gradually upping the difficulty, challenging your players to accurately hit a target. By improving your players' line and ability to keep it at good areas, you'll be making it easier for your captain to set a field as well as testing the batters resolve when they?re at the crease.
We aim to keep things simple as we reintroduce players to bowling. However, you shouldn't completely ignore technique which is why we also aim to give your seamers some important tips to stand them in good stead - such as build into your run up and follow through straight.
Get your bowlers back in the groove - try this session today!