Goalkeeper 1v1's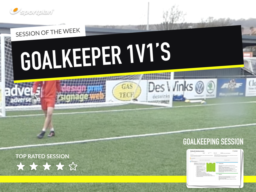 What is the session about?
This session works on goalkeeper dealing with a 1v1, breakaway or through ball behind the defence.
How will this benefit a coach and their players?
The drills in the session get more progressive. The initial drills allow the coach to introduce the key coaching points. The goalkeepers then have to deal with getting into position as the ball is played across the pitch. In the last drill it is also a good opportunity to work on distribution so there are multiple practice gains as well as working on the key theme of dealing with a 1v1.
What key skills will be worked on in this session?
The session works on positioning- getting into line and also how far down the line of the ball. The timing of when to advance and when to decelerate and stand and deal with the shot or block. You may also notice that some of the goalkeepers are using the blocking technique from earlier sessions. The swoop save is also covered if the goalkeeper can get to the ball before the attacker. It is also important to bring in the importance of a good finish position so the goalkeeper can protect themselves when diving at attacker?s feet.
Is there a specific age group for this session to be aimed at? If so, what age group and why?
The first few drills in the session are aimed at younger goalkeepers however can be adapted when working with older goalkeepers vary the distances to do this. In the video you can see that there is a mixture of ages and abilities. However in this case we make sure that each pair has a younger and older keeper and there is always a younger keeper in one end and an older keeper in the other goal. The player who is running through should be up against a similar age.
Can you name an exercise which is particularly key to this session?
With the younger goalkeepers the first two sessions are key to get the fundamentals and be able to break down the decision making and positional choices that they should make. The last session you can get a whole team of outfield players involved in working the goalkeepers and is great fun. There is also the opportunity in the final drill to progress the drill on by introducing defenders and also work on counter attacking for the goalkeeper.