Defending as an Individual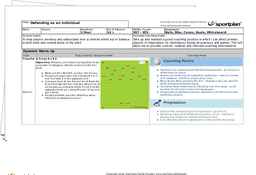 Defenders must take responsibility for their opposite man and need to be able to dictate the play even when out of possession to try and slow attacks down and force them wide. This takes patience, good footwork and the correct mentality.
What's in the Session?
Session focused on productive individual defending in centre and wide areas.
Players will be coached on how to dictate play when defending as an individual and delay when teammates are recovering.
Patience, balance, speedy footwork, recognising triggers, recovery runs.
The session is aimed at players between the ages of U17 – U21
Defending whilst out of balance – practice 2
To help players develop and understand how to defend whilst out of balance in both wide and central areas of the pitch.
This session is available as part of an Interactive Coaching Pack, scroll down to learn more