Search
results for

: golf

We found 44 results matching your criteria:
Drills
category: Tri-Golf-Warm-Up-Games
Golf Divots! Tri Golf Warm Up Games Scatter some cones (divots) across the area, some the right way up, and some upside down. Split the group into tw...

category: Tri-Golf-Warm-Up-Games
Golf Tri Golf Warm Up Games Tri Golf Warm Up Games.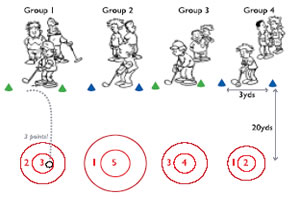 category: Tri-Golf-Chipping-Games
Golf Chipping challenge Tri Golf - Chipping Games Each team is divided into 4 groups and begins in one of the bays. Each player takes it in turn to t...

category: Start-Golf-Putting-Games
Golf Around the Clock Start Golf - Putting - Games SET-UP: Mark out one or more 'clockfaces' using suitable markers. Place a marker at the centre of ...
Web Videos
"Baby James" Grimes is already playing in child tournaments and has PGA Tour dreams. SUBSCRIBE for the latest news and updates from ABC News ...
The new Golf – intelligent, connected and electrified It is the most successful Volkswagen of all time: the Golf, which has sold more than 35 million ...
Golf Stereotypes: The golfers we all love to hate. ---------------------------------------- ▻ PLAY our iPHONE GAME - ... ▻ VISIT our NEW ...
Enjoy the best moments of To subscribe to Zig & Sharko Channel, click here: ...
Community Drills
Golf Training tips from ... www.athleticgolftraining.com Rotation, mobility and agility are important aspects of golf fitness program.
Randy Myers shows you several golf agility exercises to help your golf game. Sign up to www.mygogi.org free and see more from our golf video library o...