Search
results for

: tri

We found 56 results matching your criteria:
Drills

Golf Step Back Tri Golf Putting Games Starting with cone nearest to the target players attempt to putt the ball into the hole moving onto the next wh...

Golf Tri Golf Warm Up Games Tri Golf Warm Up Games.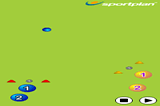 Golf Snooker Tri Golf Putting Games SET-UP: Place a linbe of markers to represent the colours red, yellow, green, brown, blue, pink and black - with ...

Golf Tri Golf Putting Games Tri Golf Putting Games.
Tri Golf Warm Up Games Scatter some cones (divots) across the area, some the right way up, and some upside down. Split the group into two teams - 'Ha...

Golf Setting up a Tri Golf Course Tri Golf Course The design and creation of your Tri-Golf course is completely up to you or the children who are goi...
Web Videos
If you have any questions contact Steve Gass 01823 653990.
Myerscough Links - Website - ... Twitter - https://twitter.com/My_GolfNews.