Working the circle to maximise shooting options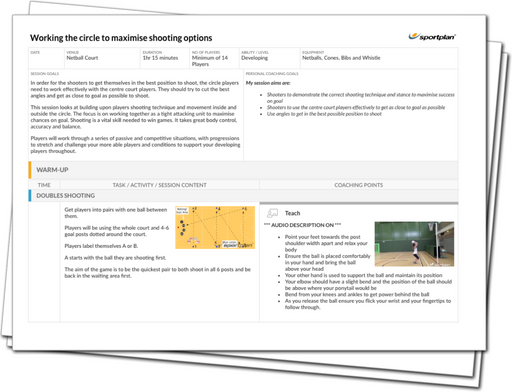 To increase your team's chances of success your players should work together to get the shooters shooting from a distance they are comfortable with.
What's in the Session?
The session begins with a fun warm-up game focused on your shooting technique increase success. The session develops to provide a series of drills looking at your player's movement within the circle to enable them to get closer to the post. Not only this, but the session develops your shooter's partnership, getting them to read off each other and create space within the circle. 'Shooting Rotation Practice' allows your shooters to see the importance of pulling out to create space, whilst their partner penetrates the space. The session concludes with a normal game of netball, with certain conditions placed upon the game to get your players demonstrating what they have learnt.
It is important your shooters work together in a partnership to maximise your team's shooting opportunities.