Handball Drill Demonstration
Description
The defender is protecting the area between the 8-9 metre lines.
The attacking players work in small 2 vs 1s. The player with the ball plays a one-two pass and then attempts to feint their way past the defending player.
After the shot players rotate positions - with the shooter becoming the next defender and the defender joining the shooting players.
Coaching points
Players' passing, movement and change of direction should by aggressive and dynamic - they're trying to fool the opposition with their feint!
To begin with play this drill with a passive defender. As players grow in confidence allow the defender to become more active (though not fully active, just enough to make the attacker work harder).
Progression:
Finish with a series of 1 vs 1s. The defender is now active. Attackers can choose to simply shoot, feint or double bluff and pretend to feint before going for the shot.
Drill tags: dummy, fake, faking, feint, feinting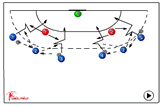 More 322 feinting (Dummy) with ball Drills
---