Packages
Individuals
Whether you coach alone or alongside other coaches you can benefit from Sportplan. Join for Free to start finding fresh inspiration to improve your coaching. Get immediate access to try our drills library and use our online sketching and professional planning tools to help you coach with confidence. Membership plans to suit all needs.
Clubs
Complete Club Coaching Solution. All coaches and volunteers can access Sportplan's materials through their own personal account. Through your clubs SportsHub you can easily share plans, video, and files, either created inside Sportplan or elsewhere, with all coaches. Build a portfolio of best practice for your club. Multi-license discount packages.
Schools
Empower all your teachers by giving them access to Sportplan's huge library of tried and tested drills and coaching plans. Allow strong coaches to assist weaker ones by sharing plans and teaching advice. Build your PE Dept's own private network of resources and easily share best practice throughout your school. Educational Multi-license discount packages.
Sportplan is designed to make your life as a coach easier.
Do you find it a challenge to keep your players interested in training?
Are your training sessions fun and full of the latest skills & drills?
Do you have the time & the tools to plan your training sessions?
Having properly planned training sessions with the latest drills & skills will give you more confidence as coach & your players will respond to it - enjoyment levels & results will quickly improve!
Join now for free
search our library of drills
create professional coaching plans
or access our tried and tested plans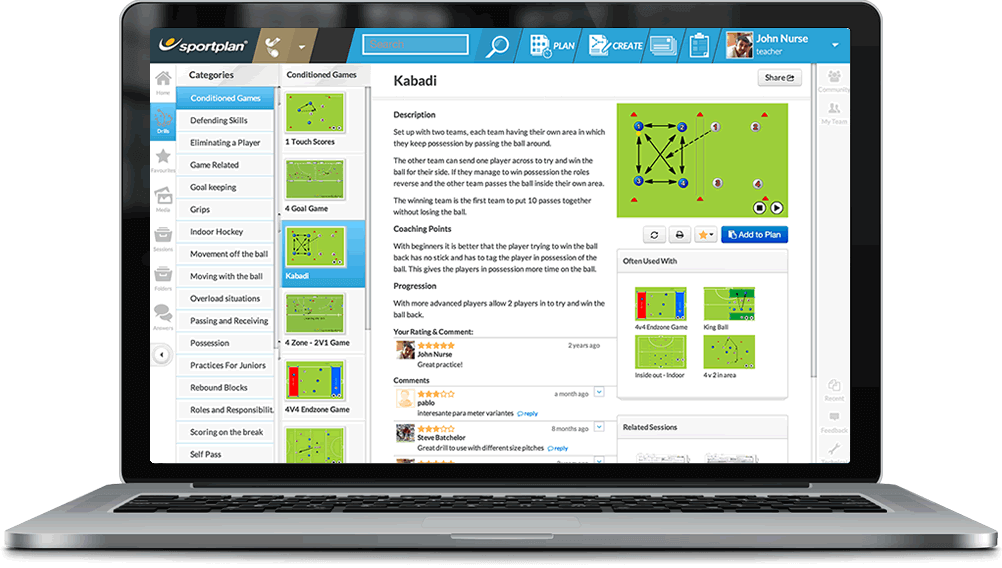 Features
Never be short of ideas with our ever growing collection of drills. All demonstrated with high quality videos and easy to understand animations. Browse drills by category or use the search bar to quickly find what you're looking for.
Over training games and drills
Favourite the drills you like to save them and find them more easily later
Put drills together to build your own coaching plan
See Video or login to try it today and start to transform your coaching sessions.
Write your plans online. Choose from a variety of templates recommended by top teachers and sports governing bodies. Simply click and type. You can also add your own sketches or insert one of our drills. Create professional plans in minutes.
All plans saved to your Sportplan account - no more lost pieces of paper
Save, edit, print and share plans from any mobile, tablet or computer
Use the fullscreen slideshow mode to present your drills to players or students
See Video or login to try it today and start to transform your coaching sessions.
Sketch you own drills, plays and formations using our online Chalkboard. Using drag and drop icons and arrows you can quickly create professional diagrams which are automatically saved to your account.
Use your diagrams in your coaching plans
Share with players and other coaches via email or social media
Save, edit and share your sketches from any mobile, tablet or computer
See Video or login to try it today and start to transform your coaching sessions.
Stop scratching your head! If you've got a questions you can ask our community for help. The answers pages are a goldmine of advice, with answers to many coaching problems from experienced coaches.
Post a question and ask the community for coaching advice and training tips
Use the search bar to read previous answers and improve your coaching
Join the debate - share your expertise and suggest drills and training plans to help other coaches
See Video or login to try it today and start to transform your coaching sessions.
Short on time? That's where our weekly plans come in handy! Throughout the season our resident coaches share what they are coaching with you so you can use it too. No 2 weeks are the same.
All plans contain videos and diagrams. Watch the videos to quickly understand how to run the session
Clear instructions, coaching points and progressions allow you to coach with confidence and challenge your players
Read the plans on any mobile, tablet or computer. You can save the plan as a PDF or print a copy to take on the pitch/court
See Video or login to try it today and start to transform your coaching sessions.
Take your coaching with you wherever you go. Whether you're on a computer or on the training pitch/court using your phone, you can search for drills, open your favourite training plans and quickly share ideas with other coaches.
Sportplan apps are available for iPhone, iPad and Android
Browse and view all your stuff wherever you are
Access your Sportplan account using any phone, tablet or computer
See Video or login to try it today and start to transform your coaching sessions.
You're not on your own when you coach with Sportplan. We connect coaches from around the world with top quality advice and ideas to help you deliver better coaching.
News feed on your homepage, includes top rated drills and training plans
New questions and answers to read - updated daily
Follow other coaches and their updates will appear in your My Team news feed
or login to try it today and start to transform your coaching sessions.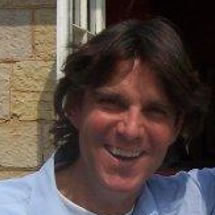 Having spent over 30 years working in coaching and sports development, at all levels, I wanted to create something to transform the communication of coaching knowledge.
I am pleased to say over the years Sportplan has helped over half a million coaches and teachers, and it makes me smile to think how many children and athletes that means we have helped. We continue to innovate both in technology and coaching best practice, and now Sportplan is fully mobile we look forward to helping even more people.
What our users say
Wow what a great website, I have found Sportplan an important tool for me when planning my netball sessions with my netball team. There are a lot of very helpful tips, ideas and skills that I can learn and teach to my team. Thank you Sportplan I hope to continue to use your helpful tips and to learn more about improving my teams netball skills. Thanks again....keep it up....
Great drills and practices thank you. Have used to great success for Hockey and Netball. Have just signed up for Tennis, Cricket and Rounders
What a fantastic tool. I 've found a few drills that are unfamiliar, but that's to be expected after playing for 27 years. However, the Chalk Board and Session tools make an unbelievable difference in making training plans in both time and organization. I will be instructing all of my assistant coaches that this tool must be used for all sessions during the season, so that we may build a club coaching resource library.
This is a great site. The days of scratching practice drills and back plays on scraps of paper are now long gone. I can easily organise my practices, with pictures of the drills and the key words and points to remember. It allows me to plan practices more quickly and makes me a better, more organized coach. I now have access to some drills and plays that I have never seen or thought of and our players will now have better practices. Thank you.
I can't get enough of Sportplan. It's given me back the enthusiasm I was starting to lose. My girls are keener than ever now to play their next game.
Join now for free
search our library of drills
create your own professional coaching plans
or access our tried and tested plans