Penetrate the space to maximise attacking options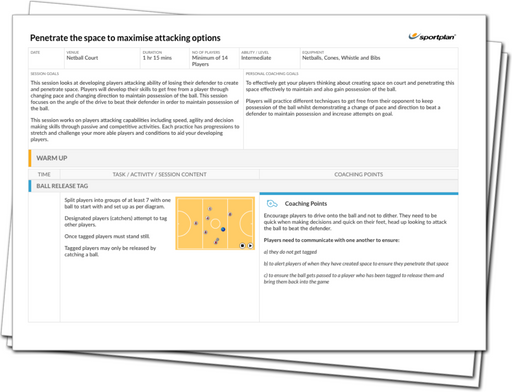 Finding space on a netball court is a skill often underrated. Those who are brilliant at it have to put the hours of practice into it and once it is mastered, the things they do are barely noticeable but they will constantly find themselves on the ball.
What?s in the Session?
Decisiveness is a great trait in netball. Decisive movements and decisive passes will allow you to cut through any defense. That notion runs throughout the session, starting from the warm up, into the skill-based practices and beyond. The skill practices work the players hard on their movement patterns and how to create a yard of space to attack into and penetrate any space to create a strong attack. The session constantly encourages players to think about where and how they can find the space to receive the ball in a good area. Complete the session with a conditioned game that will show the players how they can transfer the skills learned into a game to initiate sustained attacks.
Create a little bit of space with clever, slight movements and penetrate it with decisiveness and skill.