Giving the first time ball to get the ball A to B as quick as possible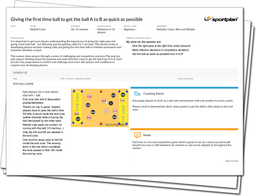 It is important your players recognise and can give first time balls in order to get the ball to goal quickly.
What's in the Session?
The session begins with a fun warm-up game focused on your player's movement and speed of passing. The team who works best as a unit will find it easier to get the ball to the end zone to score. The session develops to provide drills that help develop your player's ability to give the first time ball as quickly as possible, ensuring the ball is in front of the receiver. '1 v 2 - Giving a GOOD Ball' provides a competitive practice whereby your players can develop working in a partnership and their ball placement. The session concludes with a modified game of netball, with certain conditions placed upon the game to get your players demonstrating what they have learnt.
Players must also work on the timing of their movement, ensuring they are free when the feeder is ready to pass.