Effective execution of Set Play from the Centre Pass - Advanced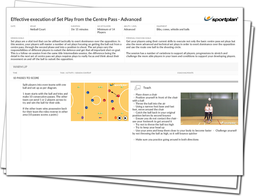 Set plays are a valuable tool that can be used tactically to exert dominance over the opposition. These set plays will be your ?go to? if you are struggling.
What?s in the Session?
The session begins with a fun warm-up focused around getting your players to keep possession of the ball. This will prove a crucial skill throughout the session to safely get the ball into the shooting circle. The session introduces a number of more complex centre pass set plays. Each set-up is well explained, with a visual real life example on court, alongside coaching points to allow your team to perfect each one. The session concludes with a game of netball, with certain conditions placed upon the game to get your players demonstrating what they have learnt.
Set plays are important to have in your coaching tool box as they can help give your team confidence and a strategy to gain success over the opposition.