Ditch Your Opponent By Effective Change Of Pace And Direction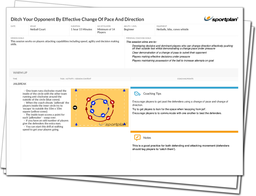 All players regardless of their position need to be able to effectively lose and outwit their opponent. Therefore, it is vital that all players are able to do this under pressure and efficiently.
What's in the session?
Players need to demonstrate a change of pace and direction to ensure they lose their opponent. This session also looks at the skill of dodging to beat a defender to receive the ball and maintain possession.
We look at accuracy and decision making through passive and competitive situations, with progressions to stretch your more able players and conditions to support your developing players.