Developing tight man to man defence to limit ball carrier options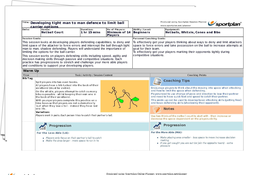 Improve your player?s defending capabilities in this session, by denying the opposition space and limiting their options. Force the opponent into making crucial errors, so your players can intercept the ball and be on their way in attack, with the use of tight man-to-man marking.
Work on your team?s current defensive ability and improve on it, helping them to understand the importance of limiting space for the opponent, so they can halt their attack effectively. By getting your team to shadow the opposition, with exercises such as Shadow Mark, you?ll get your players to effectively take possession of the ball and also get used to marking their opponent tightly.
Don?t let the opposition slip through your defence! Mark them tightly and improve your team?s defending skills.