Developing Speed and Stamina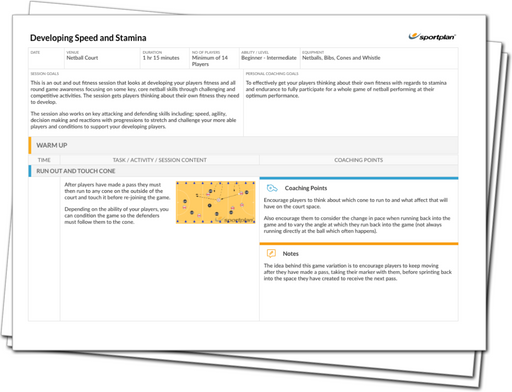 Work on your team?s fitness with this session, focusing on increasing both their speed and stamina, but also improving the core skills needed for Netball. With a number of challenging exercises - bound to get the blood pumping - we get your players thinking about their fitness levels and how to improve them, so they are able to last the full 60 minutes on court.
With this out and out fitness session, we look to improve two key areas which are needed to enable your players to reach their optimum performance; speed and stamina. Exercises such as shooter shuttles will get your team improving their fitness, as well as working together as a team, so they are full prepared for game situations.
Not only do we focus on fitness, you will also develop key attacking and defending skills in this session, helping your players to have the full package on court.