Create and penetrate space to give the ball carrier options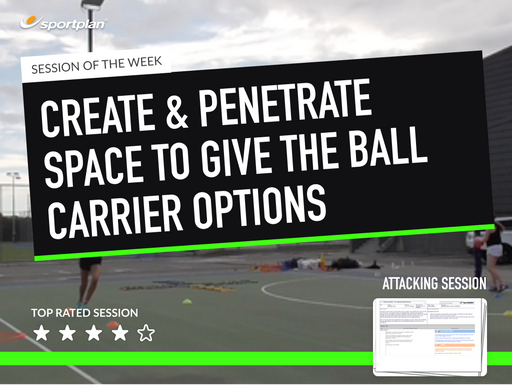 Often the ball carrier can be under significant pressure due to having a 3ft mark over the ball, restricting their vision, as well as the 3 second time constraint. It is therefore crucial that your players provide the ball carrier with more than one option, in order to maintain possession.
What's in the Session?
The session starts with a fun game, whereby the attackers must use fast passes and quick movement to maintain possession. This will get your players recognising and using the space around them, whilst trying to avoid the defender. The session then goes on to explain three ways to get free from your defender using simple running movements. The 'choosing sides' drill encourage the attack to provide two options for the ball, whilst putting pressure on the ball carrier to make the best decision due to time constraints. The plan then provides a progression to the previous drill, making the practice into a more realistic game situation. Your players will then be able to imagine how the drill would fit better on court and implement this during a game. The session concludes with a game of netball, but with certain conditions placed upon the game to get your players implementing what they have learnt.
Your players should work hard for each other, to ensure the ball carrier always has at least two options.