Bonus Session: Netball Conditioning - Change of Direction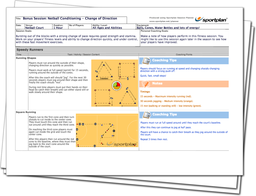 This Change of Direction Fitness session is full of drills which you can quickly and easily incorporate into your pre-match routine or existing trainings - designed to get your players bursting from the blocks and turning on a sixpence!
Don't worry though - It's not all work and no play - this session combines running drills with ball work to keep your players engaged as they work on their speed and stamina.
Improve your players' fitness levels and agility with this fast movement Session!