Back to Netball - Skills Circuit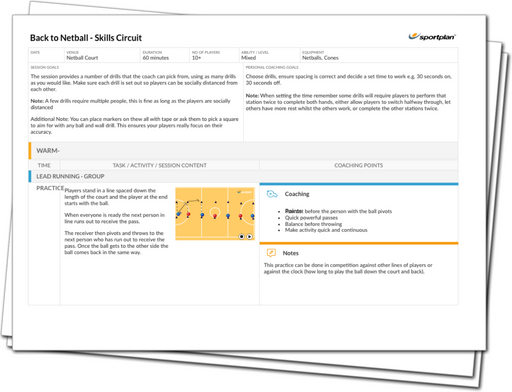 With Netball returning to our courts, it's important that players can shake off the cobwebs and start to finesse their skills again.
The session begins with a fun warm-up focused on players' movement, timing this movement, and adding some friendly competition. The session progresses to provide a number of drills that can be put into a circuit, that players will compete with each exercise for a set time before moving on. These drills have been chosen, ensuring that players are socially distanced at all times. The drills provide a range of skills, including movement, passing accuracy and strength and power. The session concludes with a fun competition for your players to practice and demonstrate their passing accuracy.
These skills are all fundamental to netball and it is important they are constantly revisited. A circuit provides a fun way to do this, keeping players engaged and working hard.