Attacking Principles: Developing options to maintain possession of the ball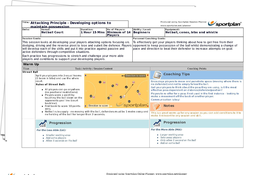 This session looks at developing players attacking options through a range of skills and movements including dodging, driving and the reverse pivot. The idea is to encourage movement of the person on the ball to lose defenders to open up the court and create more options.
It's also essential that your team works together, so we also look at communication and encouraging your players to read off one another to help maintain possession.
What's in the Session?
Get your players warmed up and ready for action to help prevent any injuries with a round of Street Ball. Develop your players skills with a range of exercises to improve their pivoting, movement and range of passing.
Finally, put all of your players new skills into practice with a modified 7-on-7 game, encouraging them to use their positioning to lose defenders and create brilliant attacking options.