Attacking Principle: Maximising Possession through the straight line ball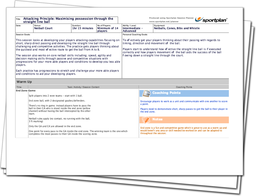 Attacking on a netball court can be difficult. The space can be tight and time to make passes is limited. Therefore, having the ability to see passes and make them with confidence is essential. This session focusses on finding the quickest route to attack through fast sharp passing; so discover how to attack with clarity, pace and incisiveness!
What?s in the Session?
The dynamic warm up is a great way to get the players up for this session. This warm up drill is a great way to ensure they?re switched on plus, with a little bit of a competitive nature, players will be in great spirits come the start of the main body of the session! Moving on through the session, you will gradually be building your players skill base with practices that really test their passing and receiving. The practices really work the players in regards to their movement as well as their hand skills, after all, it takes two to make a pass a success! The final game allows the players to discover how their quick passing and sharp movement can benefit the team in a game-based scenario, hopefully encouraging exciting attacks!
Play your way up to the attacking third with short, sharp passes to find the quickest route to attack by. Then see the goals roll in!