Handball Drill Demonstration
Description
Players dribble forward with the ball and must feint to get past the defender and throw at the goal.
Coaching points
Jump shot (technique):
Bring up the ball to shoulder height and whilst the body is in the air the hip should go backward together with the throwing arm.
Pull up other leg until upper leg is horizontal. Screw back from the hip and the arm should follow this movement explosively to the front, finishing with the arm pointing in the direction where the ball should go.
Land on the same leg as you jumped off.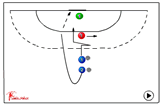 More 322 feinting (Dummy) with ball Drills
---