Search
results for

: Ball

We found 22 results matching your criteria:
Drills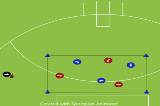 Players must complete a set number of passes inside the grid before shooting.
If the ball is intercepted that team must start from zero.
Community Drills
4 square tackleIn pairs or 2x pairs wrestle inside the square for 5x 30 sec 15 sec rest in between. add balls to make harder, if a ball is dropped the...
2 x 2 groups of 4 people. 2 lines of 4 cones. First player with ball must run from first cone to third cone and dump ball by the cone and sprints back...
HIT TALL FORWAD TARGET IN DESIGNATED ZONELEADINGLONG KICKPRECISE HANDBALLDELIVERY TO THE FORWARD TARRGET ZONE