Free throw variations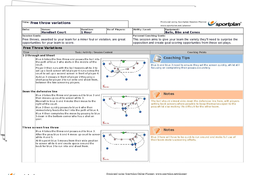 Give your team more attacking options when awarded a free throw in the attacking third.
This session aims to give your side more weapons in their free throwing arsenal - including cross-over running, screening and speedy passing all in order to create a clear shooting opportunity!
"Free throws are awarded for a minor foul or violation and must be taken in the place where the infringement occurred. The thrower must also keep one foot on the floor until the ball has left their hand."
What's in the Session?
Starting with a three person play the moves in this session get progressively more challenging - so you can choose the right free throw technique to match your players' level and help them to score from the set play!