Handball Drill Demonstration
Description
The attacker in this drill should feint in an attempt to confuse the defender before passing the defender on their stronger (throwing) side, so for a right handed player this would be the attacker's right hand side, and shooting on goal.
If working with a large group have all your players run one at a time at the defender before shooting on goal, if working with smaller groups set up small 1 vs 1 drills.
Coaching points
Players should:
Catch the ball in the air, land on both feet with bent knees and feet shoulder width apart.
Players should keep still for a very short moment to 'fix' your defender before then first making one small step (feint) to the left.
The 2nd step should be a fast and aggressive one with your right foot, which then takes the attacker past the defender.
From this point players can:
Jump off their right foot and immediately throw at the goal or
Shoot on their 3rd step. Progressing further forwards with small, fast steps, final jumping off their right foot in front of the goal area line to throw at the goal.
Progression
The defender must step left / right before the attacker reaches them. The attacker must read the movement and feint in the same direction, before moving into the space.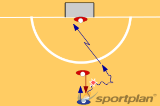 More 322 feinting (Dummy) with ball Drills
---