Using the Overlap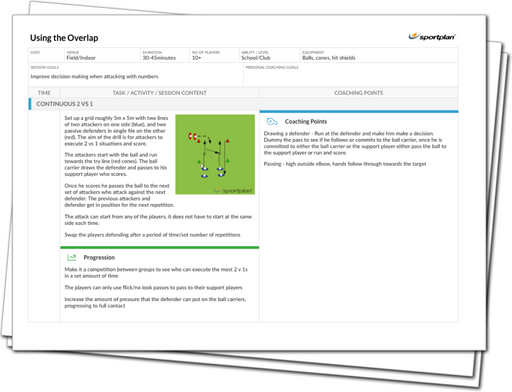 Make sure your players support their team-mates with this session, by using the overlap in attack, ensuring that your team attacks in numbers. Improve their decision making when going on the attack so your players understand when is best to provide the overlap, or even use the overlap when passing the ball, so they don't let an opportunity go to waste.
With a number of challenging exercises, such as the 2 vs 1 Gauntlet, we'll get your players thinking about their options and making the correct decision when going forward. Work on different techniques such as drawing the defender to make full use of the extra attacker, by using the dummy pass to fool the opposition, so your team are able to launch effective attacks.
Don't let an attack go to waste! Make sure your players provide support on the overlap.
This session is available as part of an Interactive Coaching Pack, scroll down to learn more