Tackling for Toddlers - The basics of tackling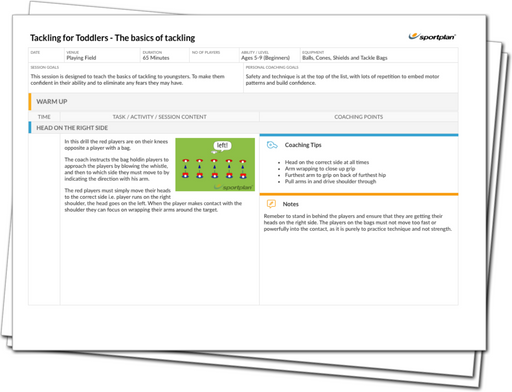 Teach the basics of tackling to your youngsters - eliminating their tackling fears and improving their contact confidence.
It's not all about strength, particularly with juniors, instead what's important is confidence, technique and physical ability. That's why in this rugby plan we focus on tackling technique and safety, ensuring players put their head on the correct side, wrap their arms tightly and drive with their shoulder.
What's in the Session?
To get your players stalking their prey and rocketing into the tackle we start with a simple tackle bag warm up and then increase the challenge through exciting drills that will get your players diving for the tackle and more confident in bringing down their man.
Keeping it safe:
Safety and technique are the top priority in this session, with a gradual progression in difficulty and lots of tackling repetition to reinforce motor patterns and build confidence.
This session is available as part of an Interactive Coaching Pack, scroll down to learn more