Quick Ruck for Quick Ball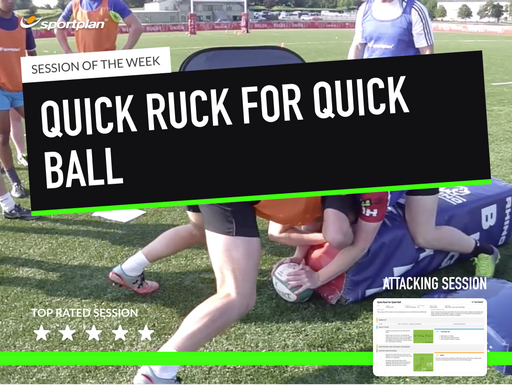 Quick rucking that produces quick ball is the first step towards a dangerous attacking side as you give the other team less time to reorganise their defence. However, quick rucking is only possible if your team has support in numbers so the secondary focus of this session is concentrated on supporting the ball carrier and reacting accordingly.
What's in the Session?
To help your team win the metres and keep possession we recap rucking techniques, to help your player blow away the threat from your opposition. Following on we then progress the session by getting your players to work in units - accelerating to get in behind, reading the situation and clearing from the bottom-up to ensure they successfully clear the target and retain the ball.
Use this session to keep a high tempo at your training and get your team rucking quickly, efficiently and effectively!
This session is available as part of an Interactive Coaching Pack, scroll down to learn more