Fun Tag Session! - Passing, Evasion and Running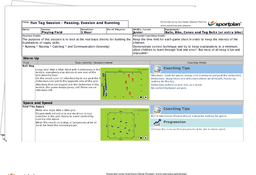 In this small-sided games session we cover: Communication, Evading the Tackler, Passing and Running with the ball.
What's in the Session?
Opening with everyone's favourite game, Bulldog, this plan then quickly skips past its man to work on speed and finding space before finally dropping its shoulder and sprinting past its man to finish with a fun mini-game of 5 vs 5.
Use this session to recap your players' basics and refresh the skill building blocks they will need for future success!
This session is available as part of an Interactive Coaching Pack, scroll down to learn more