6 Ways to Improve Evasion and Footwork Skills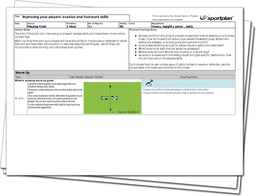 This week's session will develop your players into a team of untouchables.
Your players will improve their abilities to sidestep and swerve with 6 exciting evasion practices - all clearly explained with video and coaching points - as well as some important questions to ask your players such as:
Where does he look? Are his hips moving or only the legs?
What does he do with the ball when he sidesteps?
Are they committing to the swerve or going through the motions?
After coaching your players will have the ability to manipulate a defender to either side and will have been introduced to a few new stepping techniques including the power stride.
Your next opponents will be chasing shadows after completing this plan!
This session is available as part of an Interactive Coaching Pack, scroll down to learn more