2nd Wave Defence and Developing Offloading!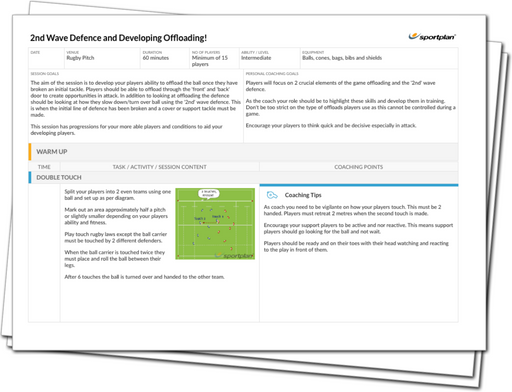 Work on both your team's attack and defence with this session!
Develop their ability to offload the ball once they've broken through the initial tackle, as well as improving their 2nd wave defence, looking at how they can slow down and turn over the ball. Make sure that your team are ready when the initial line of defence has been broken and support is needed!
What's in the session?
Get your players warmed up and ready for the session ahead. Get your players used to pulling off the quick offload ready for a game situation, with plenty of challenging exercises, making sure that they are also thinking tactically and are able to use quick footwork to get past the opposition.
We also go through the 2nd wave defence with your players, making sure that they are using the correct technique when making a tackle, encouraging them to power step through the contact, forcing a turnover and ensuring that their team-mates are in support.
This session is available as part of an Interactive Coaching Pack, scroll down to learn more