Building Possession in Midfield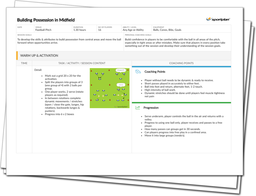 Get your midfield controlling the game! Build your players confidence to take the ball under pressure in tight situations in order to build a sustained attack.
Look at the great midfielders over time, they're all so comfortable on the ball. It's not coincidence that the best teams have the best midfielders, that Barcelona team had Iniesta and Xavi at its heart, who demanded the ball and wanted to build attacks through possession. This session emphasises the importance of being comfortable on the ball when under pressure and highlights the success it can bring.
Get your players being confident receiving the ball and moving it on to build possession.
This session is available as part of an Interactive Coaching Pack, scroll down to learn more