Search
results for

: speed

We found 19 results matching your criteria:
Drills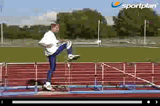 category: Track
Athletics Rapid Acceleration Track Rapid acceleration to a full speed sprint from a standing start.

category: Discus
Athletics Accelleration Discus The athlete must stay relaxed and accelerate across the circle, rather than to go at full pelt from the back.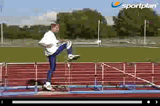 category: Track
Athletics Ladder Drill 2 Track The ladder drill progresses from a short and fast foot ladder drill to full speed running. Aim: to smoothly increase s...

category: High-Jump
Athletics 2 Stride Run Up High Jump Short approach run to take off. ... How to increase distance and speed in long jump? ahmed shehata, Athletics Coa...
Community Drills
A workout designed to improve Speed/Acceleration, Agility & Quickness. Suitable training for youth, developing and elite athletes.Important to cor...