Passing while moving down the pitch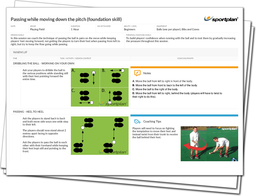 In this session we get your younger players passing on the move in pairs while keeping their feet moving forward, teaching them to resist the temptation to turn their feet and instead keep the forward flow while passing.
To build your players' confidence when running with the ball we gradually increase the pressure throughout this session - pushing your players so that they can challenge themselves and improve their passing ability.
What's in the session?
To get things started every player works with their own ball, moving the ball in all positions around their body without moving their feet. Once players are used to twisting and turning we introduce the passing and receiving element to this session, getting players to work in pairs, putting practice into play as we see how well your players can pass with forward feet under ever-increasing pressure.
Give this session a spin and improve your junior players' dribbling today!