Passing out of Defence to Forward runners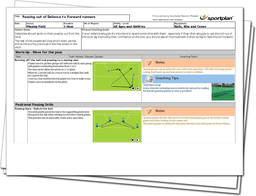 In this plan we turn our attention to your deepest players, because when they have the ball at their stick, they're your first line of attack!
What's in the session?
While your attacking players are working in small sided games, this session allows you to focus on your defenders, looking at how they pass out from the back as you encourage them to spread the ball.
To ensure your defence know how to pass calmly from the back to your forward players this session provides them with positional passing drills, especially chosen to breathe confidence into your backs and to encourage them to think as they hit the ball up the pitch!