Commit the Defender before you Pass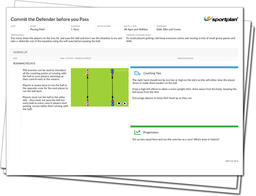 Take one of the opposition's players out of the equation by teaching your players to delay their pass and draw the defender in before playing the ball to a teammate. As a result, an opposition player is eliminated and the receiving player is likely to have more space and time on the ball.
Too many times players on the ball just pass the ball and don't use the opportunity to try and take a defender out of the equation before passing the ball.
What's in the Session?
The session builds up the skill progressively, working initially on the reverse roll-out to create space before moving on to committing the defender. Players will progress onto possession-based games where they get accustomed to allowing the defender close enough to them before timing their pass correctly in order to make an effective connection with a teammate.
This session is available as part of an Interactive Coaching Pack, scroll down to learn more