Gymnastics Drill Demonstration
Description
From a short run and hurdle step the gymnast dives forward to place hands, a shoulder width apart, on to a one section box.

Keeping legs extended and the hips high the feet are brought inside of hands in a pike position.

The support, standing to the side, places hands on to the shoulder and lifts stopping forward rotation.

Gymnast lands on mat in flexed position.
Coaching points
Encourage flight on and off the box.

High hips and good arm and leg extention.

Head up to aviod roation.

Support lifts shoulder helping the gymnast to bring their feet through.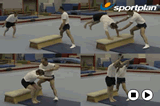 More Key 3 Through Vault Drills
---