Spreading out to maintain & exploit space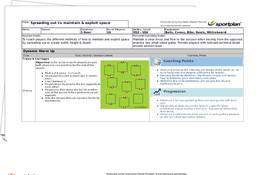 In junior football, it?s important to get the players out of the mindset of chasing the ball. Instead, get them thinking about how they can create and take advantage of the space on the field to take their game to the next level. Develop links between your forwards and wide players by working on their passing and timing of runs.
What?s in the Session?
Utilising wide areas to create, maintain and exploit space all over the pitch.
Players will link with advanced forwards/wide players to create and exploit space.
Passing variety, maintaining space, timing and nature of movement, stretching opponents.
The session is aimed at players between the ages of 12 ? 16.
Small sided game ? 8 v 8
This session is available as part of an Interactive Coaching Pack, scroll down to learn more