Passing, Games and Basic Team-Play Principles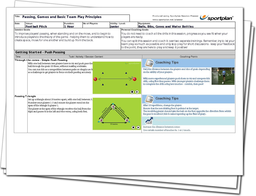 In this session we review your players' static and moving passing, by introducing them to some basic team-play principles to improve their footballing fundamentals.
What's in the session?
To ensure passing practice is lively and fun we get your players working in small groups, starting with a through the gates consistency exercise before building up towards some fun exciting conditioned games.
To ensure everyone gets as much ball time as possible in the final game we get everyone playing small-sided matches, the only difference here though is that you're going to introduce your players to some basic game principles, for instance:
Don't all chase the ball,
Build up play from the back and
Always keep one defender back to prevent the opposition playing the long ball/counter-attack!