Introducing the Overlap - Overlapping Attack!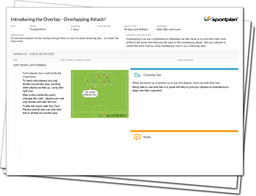 Pass and go, one-two passing - these are different names for what are essentially the same thing - a positive and fluid style of passing football.
To get your players working for one another, using this exciting style of attacking football this session introduces players to the overlap, and more importantly, gets them to incorporate it into their game!
What is the overlap? - Let's take an example of a left back and the left winger:
The keeper rolls the ball out to the left back who turns and plays the ball up into the midfield.
The defender then follows their pass and runs around the winger, to create the extra man, offering a passing outlet - the winger now has two options, they can take on their marker themselves or they can play the ball to the overlapping defender!
Use this session to teach your players how to become a nightmare for defenders with overlapping runs.
This session is available as part of an Interactive Coaching Pack, scroll down to learn more