Improving Goal Scoring Percentages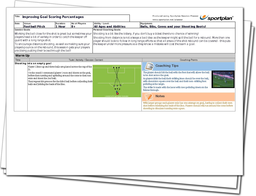 Try this exciting shooting and scoring session with your team today, and encouraging them to put their laces through the ball!
Working the ball close for the shot is great but sometimes your players need a bit of variety in order to catch the keeper off guard with a long range effort. Shooting from distance is not always a bad idea as the ball can be rebounded for a second chance for your team to score. It may be a good idea to try place the ball but a powerful shot from distance can catch the opposition unaware!
What's in the session?
To encourage distance shooting, as well as making sure your players pounce on the rebound, this goal scoring session gets your players practising shooting with power - starting with shooting drills and then building the skill into two conditioned games!
This session is available as part of an Interactive Coaching Pack, scroll down to learn more