Defending Overloads in Flank Areas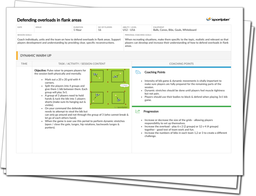 Many teams are looking to advance their full backs and we are seeing attack-minded defenders getting forward a lot more to create an overload in the wide areas. Make sure your team are equipped with the skills and mentality to deal with the overloads when defending.
What's in the Session?
Defending game related session in a particular area of the pitch.
Players will increase their understanding of to prevent the opponent when defending overloads especially in wide areas.
Speed & angle of approach, pressing, showing opponents outside / inside.
The session is aimed at players between the ages of 12 – 16.
Opposed practice – defending overloads
Coach individuals, units and the team on how to defend overloads in flank areas. Support player's development and understanding by providing clear, specific reconstruction.
This session is available as part of an Interactive Coaching Pack, scroll down to learn more