Crossing Champions - Improving crossing conversion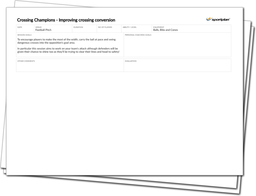 Encourage your players to attack down the wings, making most of the width and crossing the ball into the opposition's goal area. A well-placed or quick cross into the area can cause havoc for the opposition, and end up with a goal if your players put away the chance!
Working on your attack, this session aims to improve your crosser's accuracy as they pick their spot inside the opposition's penalty box. Ensure your attackers communicate and know where to expect the cross so that they can convert their chances.
No matter what sort of cross your players deliver (in-swinger, out-swinger or driven) the key is that they're able to create space down the wings and deliver into the box.
This session mainly works on your team's attack but defenders needn't worry, they'll be given their chance to shine too as they'll be trying to clear their lines and head to safety.
This session is available as part of an Interactive Coaching Pack, scroll down to learn more