Combination Play for U9s and under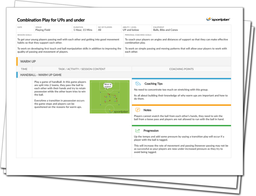 To develop positive passing, support runs and highlight the importance of good verbal communication, this junior session gets your players to pass and move to keep the ball.
What's in the Session?
We cover a lot of ground in this session so there should be something for everyone:
Warm up game
Handball (play with hands to help focus on movement)
Skill development
Dribbling and passing on the move
Two conditioned possession games
Practising attacking the goal with an overload
Small sided match
Transferring all the skills back into the game
Use this plan at your next training to improve your team's combination passing game.
This session is available as part of an Interactive Coaching Pack, scroll down to learn more